Within two months, the Cabinet of Ministers of Ukraine must submit a bill to the Parliament on the preclusion of activities of religious organizations associated with Russian centers of influence in Ukraine.
This decision of the National Security and Defense Council of Ukraine (NSDC), adopted on December 1, 2022, was personally announced by the head of state after signing the relevant decree.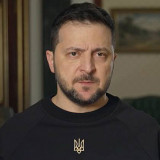 Unfortunately, even Russian terror and a full-scale war have not convinced some figures that overcoming the temptation of evil is worth the effort. In this case, we must create conditions where any figures dependent on the aggressor state will not have any opportunity to manipulate Ukrainians and weaken Ukraine from within.
NSDC has ordered the Cabinet to ensure the review of the activities of the Ukrainian Orthodox Church affiliated with the Moscow Patriarchate (UOC) on the territory of the National Kyiv-Pechersk Historical and Cultural Reserve within two months. It means that activity of the Kyiv Pechersk Lavra will be revised.
At the same time, the State Service of Ukraine for Ethnic Affairs and Freedom of Conscience (SEFC) has been instructed to ensure that a religious examination of the Charter on the administration of the UOC to detect the presence of a church-canonical connection with the Moscow Patriarchate is carried out within two months. If necessary, SEFC must take appropriate legal actions.
This refers to the legislative changes in 2018, which provide for an obligatory name change of those religious Ukrainian organizations that are part of the structure of a religious organization whose governing center is located in Russia as an aggressor state.
In addition, the aforementioned decision of the NSDC imposes personal economic and other sanctions on a number of individuals and instructs the Security Service of Ukraine, together with the National Police of Ukraine and other state bodies, to step up measures in identifying and counteracting the subversive activities of Russian special services in the religious environment of Ukraine.
Earlier, the Parliament of Ukraine and the Cabinet of Ministers of Ukraine appealed to the NSDC with a request to impose sanctions on a number of religious figures of the Russian Orthodox Church for spreading the ideology of war and genocide against the Ukrainian people. Among the sanctioned persons was the Primate of the Russian Orthodox Church, the Patriarch of Moscow and all Russia Kirill (Gundyaev).
Photo: ssu.gov.ua